Can A Subaru Compete With A Truck?

Forget The Truck and Consider a Subaru
Subaru has decades of tried-and-true power and dependability, but can they compete with the power of a truck? With today's high demand for vehicles that can go the distance, pull their own weight, and perform with excellent fuel economy, Subaru vehicles rise to meet every expectation. The brand has a wide range of vehicles that have nearly limitless options when it comes to available modifications to make an already rugged vehicle even more capable. With Subaru of America bringing their A-game with amazing vehicles along with the help of top modification supplier LP Adventure, Subaru of Midland Odessa helps you and your Subaru reach all new heights.
Let a Subaru Handle Your Towing
Many Subaru vehicles already have high capability towing considering their size and overall horsepower. Taking a deeper look into their two largest vehicles, the Outback and the Ascent, we can see exciting numbers even on their base models. The new Subaru Outback boasts a stylish exterior that can be equipped to tow a maximum of 2,700 pounds. A higher trim model, the Subaru Outback Onyx XT can tow the highest ever seen in an Outback, at 3,500 pounds. The Subaru that takes the win for best towing capacity among their entire lineup is the massive Subaru Ascent. Base models of the Ascent top out at 2,000 pounds of towing capacity, still a huge amount for the Subaru brand. At the top trims, however, the Ascent performs at an outstanding 5,000 pounds of towing capacity when correctly equipped. Certainly, the Subaru Ascent may make you think twice when shopping for your next vehicle, as its three rows combined with amazing towing ability brings a new horizon when it comes to those family vacations or weekend outings.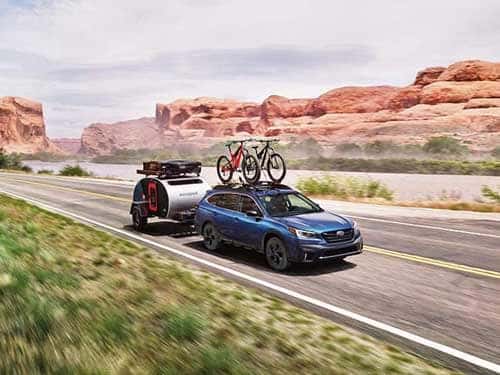 Capability to Handle Rough Terrain
Another major factor when many buyers eye a Subaru over a truck is their standard symmetrical all wheel drive, and safety features that only get better with each trim level. Generally, a truck is equipped with optional 4X4 systems which may or may not come at an additional cost, but consumers can always depend on a Subaru's AWD. The symmetrical all wheel drive found on every model of Subaru vehicles except the BRZ allows for all-season driving even with the most base trims. Factoring in many features of trucks of nearly all weight classes, these additions may come at a hefty price tag.
Take Your Subaru to the Next Level
Subaru of Midland Odessa makes your task of choosing between a truck or your next Subaru easier than ever, by being the only distributor of LP Adventure Subaru modification parts in the West Texas area. LP Adventures turns your Subaru into an exciting new way to find new adventures. Easily build your Subaru around your next off-road adventure with extra lighting, skid plates, mounting brackets, roof racks, and much more. LP adventures also offer all-terrain tires and lift kits, which can put you behind the wheel of a powerful, highly capable, Subaru with its already existing efficiency and towing capacity.
Easily find your choices for your next great Subaru vehicle at our massive model lineup at Subaru of Midland Odessa.