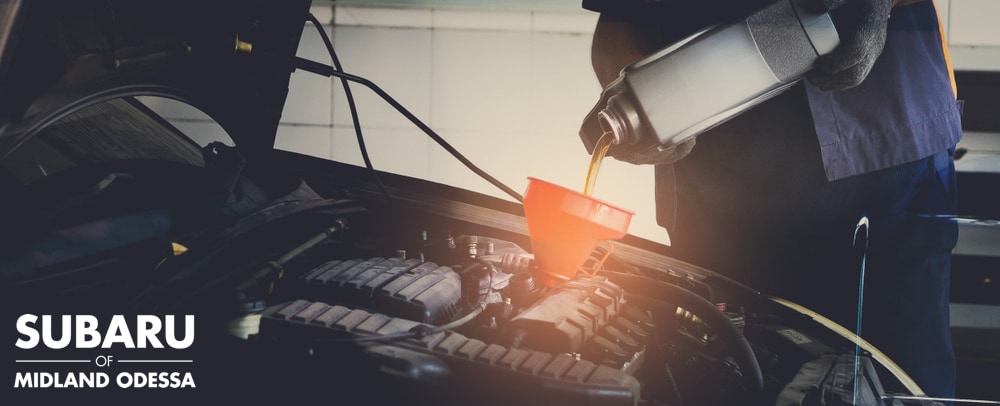 Quick, Convenient, and Critical Car Maintenance
Whether your Midland, TX, Subaru is fresh off of the assembly line or has built up a few miles over the years, nothing helps keep it run at peak performance like an oil change.   
Your car's engine has a ton of moving parts. These parts rub against each other, causing friction and heat. Your car's oil absorbs this heat and allows for the pieces to move without issue. As the oil is used, it wears out and becomes less effective. That's why you need to keep the oil in your car fresh and clean. Most mechanics recommend changing your oil every 3,000 to 5,000 miles depending on how you drive, the age of your car, and a number of other factors. An oil change is a relatively quick way to put some extra life back into your engine, but it's a dirty job. Stop by Subaru of Midland Odessa near Midland, TX, for your next oil change and let us take care of your engine.  
Using the Good Stuff
If you've ever been to a Midland, TX, auto parts store, you've probably seen the countless kinds of engine oil. Knowing what kind to use is a bit overwhelming. Luckily, we make it easier for you by only using genuine Subaru oil. Subaru oil is created from elements specifically designed for the Subaru engine. That means it does a better job cleaning and protecting your engine's parts than other non-Subaru brands.   If you're ready to change out your car's oil with the good stuff, schedule your next appointment by calling or following the link below.  
Stay Up to Date
If you're unsure about exactly when you should have your oil changed, we've got you covered. Subaru actually recommends that you check your oil levels after every other stop at the gas pump. You may decide to do so more or less often depending on your driving habits, but you definitely want to make checking your oil a regular part of driving. To help even further, we have a maintenance schedule tool available on our website. In just five simple steps, we can identify your car and its recommended service schedule.   Don't worry, we also keep track of your
service appointments
and are happy to help. Give us a call, and we can advise you on when you should have your next oil change.  
Don't Own a Subaru but Still Need an Oil Change?
Not a problem! While our certified technicians love working on Subaru vehicles, we don't discriminate when it comes to servicing the wide variety of vehicles on the streets of Midland, TX. Our team has been trained in the best practices for all oil changes and can keep your vehicle, regardless of its manufacturer, up-to-date. Please stop by, call, or visit our scheduling tool online, and let us help keep your car running for miles to come.
Hours
Monday

10:00AM-7:00PM

Tuesday

10:00AM-7:00PM

Wednesday

10:00AM-7:00PM

Thursday

10:00AM-7:00PM

Friday

10:00AM-7:00PM

Saturday

10:00AM-7:00PM

Sunday

Closed