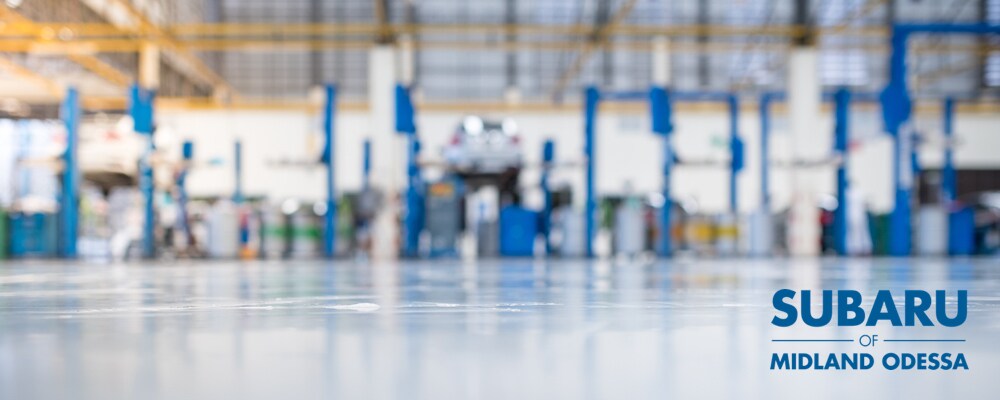 Subaru of Midland Odessa Service Department
Maintaining your vehicle regularly is the best step you can take towards giving it the long life it deserves, as well as protecting your investment for long term usage. In the long run, regular maintenance can save you money by preventing those rebuilds or bigger fixes. Whether you just purchased a brand new Subaru Ascent or have been loving your Outback for decades, our service center is equipped to handle nearly anything. For all residents of Midland, Odessa, Dallas, Big Spring, and the entirety of the region, you can count on us to help keep your Subaru in great shape.
Importance of Vehicle Maintenance
Subaru vehicles are known for lasting into those high miles, and regular car service is what helps make this happen for many Subaru owners. Depending on your vehicle you may need to get an oil change every 5,000-7,000 miles, or within a certain time frame. This is also a great time to get your car's fluids flushed and your oil and air filters changed for maximum airflow. Check your brakes as well, and note any irregularities that may occur such as strong vibrations, squeaks, or unexplainable pulling while driving. In any of these cases, your brakes may need to be replaced. Regular engine, tire, battery, and fluid checks are a great idea as well to find any problems before it becomes a major issue. 
Available Services
Subaru of Midland Odessa covers a wide array of issues and services that your vehicle may require. Our expert service team has an amazing facility to help you get the job done. At our dealership, we can perform:
Fluid Flushes
Filter Changes
Wiper blade replacement
Heating and air conditioning fixes
Engine and transmission repairs
And so much more. We are ready for a range of makes, models, and production years, so anyone can bring in their vehicle when its time for a tune-up.
Choose Service at Subaru of Midland Odessa
Our dealership takes pride in an expertly trained and friendly staff with an amazing service center to help meet any need that may arise. We use genuine Subaru parts for your vehicle, meaning that each component used was designed exactly for your vehicle, and can help keep it in as prime condition as possible. Our team of technicians will get you in and out with accurate diagnostics, well-performed maintenance, and will help keep you well-informed of your vehicle's future needs.
Parts and Tire Center
Subaru of Midland Odessa aims to meet any need that may arise with your vehicle, and while you drive away with your brand new Impreza or Outback, keep us in mind for future purchases of accessories and tires. We offer most major tire brands that cover every season, and were made to perfectly fit your vehicle. We also offer a massive parts and accessories catalog, so whether you are looking to gear up for your next weekend adventure or are looking for a specific part, you can find it easily with the help of our dealership.