The 2022 Subaru Love Promise Community Commitment Award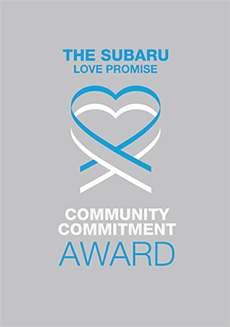 We've been nationally recognized for our dedication to our community and the Subaru Love Promise.
We're honored to receive the 2022 Subaru Love Promise Community Commitment Award. This award nationally recognizes Subaru retailers who are making the world a better place while demonstrating an outstanding commitment to supporting passions and causes in local communities. These efforts are focused in important areas such as the environment, community, health, education, and pets.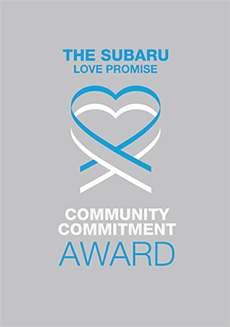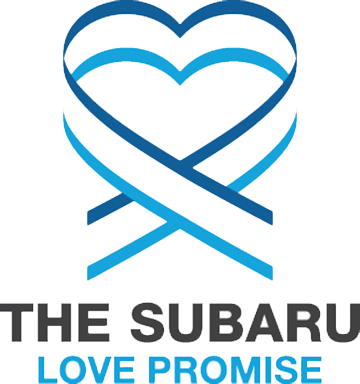 What is the Subaru Love Promise?
Subaru and our retailers believe in making the world a better place and the Subaru Love Promise is our vision of respecting all people. This is our commitment to show love and respect to our customers and to work to make a positive impact in the world.
How is Subaru of Midland Odessa dedicated locally to the Love Promise?
Our Love Promise can be seen in various partnerships with local charities and non-profits. We're grateful for the opportunity, not only to be a part of our community, but to serve it as well.
Love Promise Stories from Subaru of Midland Odessa
Subaru and Subaru of Midland Odessa believe in making a positive impact on the communities in which we live and work. We uphold that belief through our Love Promise Community Commitment. Every month, we select inspiring stories from customers and partners from around our area who strive to support our collective commitment and feature them here
Safe Place of the Permian Basin - Hannah H
Safe Place of the Permian Basin is a domestic abuse treatment center in Odessa, TX with the mission to break the cycle of family violence through counseling, awareness, advocacy, and shelter. This holiday season, Safe Place of Permian Basin held a holiday drive to provide a great Christmas to those families affected by domestic violence this year. With the help of Subaru of Midland Odessa many families will have a warm and wonderful Christmas celebration this year.
---
Red Cross and Subaru of Midland Odessa - Chris R
Subaru of Midland Odessa and the American Red Cross Serving the Permian Basin teamed up for the Share the Love event again this year! Last year, Subaru of Midland Odessa donated $2,500 to the local American Red Cross to help area families affected by disaster. Each vehicle purchase or lease a new Subaru through January 3, 2022 qualifies for a donation. "This is a wonderful program," said Tracy Austin, executive director, American Red Cross Serving the Permian Basin. "We are able to give financial assistance to families who have been displaced by disasters such as home fires, flooding, and wind and hail storms because of donations like this."Over the last 13 years, through the national Subaru Share the Love Event, Subaru of America Inc. and its participating retailers have donated more than $200 million to charity, with customers choosing between four national charities and over 1,610 hometown charities. "We are proud to partner with the American Red Cross, because we have seen how they take care of people who are experiencing such hardships," said Paul Hatcher, executive manager of Subaru of Midland Odessa. "The American Red Cross workforce is 90% volunteer," said Tracy Austin. "These funds are critical to train and develop our volunteers, so they are ready when disaster strikes."Most of the 60,000 emergencies that the Red Cross responds to each year are local, personal disasters like home fires. They may not make the news, but they are just as devastating to the families affected. Trained and available, Disaster Action Team volunteers are ready to respond to these emergencies, 24 hours a day, 365 days a year. From offering a shoulder to cry on, to meeting any immediate needs for shelter or supplies, to connecting people with long term recovery services, our volunteers ensure that families don't have to face tough times alone.
---
Lone Star Sanctuary for Animals - Barbara F
Lone Star Sanctuary for Animals has been blessed to Paw-tner with Subaru of Midland/Odessa over the past year and we look forward to continuing this Paw-tnership for years to come. Because of their compassion and love for animals, Subaru of Midland/Odessa has hosted us twice for adoption events at their dealership, and have generously contributed to our cause. They stepped in and saved the life of a dog that we rescued during the extreme freeze last winter by covering her veterinary bill. Because of their donations and ongoing support, we are able to properly care and find homes for many of Midland's homeless animals. Thank you Subaru of Midland/Odessa for including the animals at Lone Star in your community conscience! We could not do our work without folks like you!
---
Subaru of Midland Odessa Gives Hope - Alyssa W
Subaru of Midland Odessa visited Texas Oncology on July 18, 2019. This visit was particularly special for Carolyn, an LLS volunteer who went along for the delivery. Carolyn is a CLL survivor who had been treated at Texas Oncology in Midland just a year ago. On top of that, Carolyn remembers the day she received her blanket from Subaru. She remembered how genuine and kind the Subaru employees were, and how they helped her to feel hope during a tough time. She was so thrilled to be able to visit with patients who are currently sitting in the same chairs she was in just a few short months before. While Carolyn was giving one of the patients their own Subaru blanket, the patient told Carolyn that she was shocked and encouraged by the fact that Carolyn's hair had grown back! It was such a special day for Subaru, Carolyn and all of the patients in the infusion room to see that there really is a light at the end of the tunnel. Thank you Subaru of Midland for making this special moment possible. We at LLS are so thankful to have your assistance in spreading joy, hope and warmth to cancer patients.
---
The importance of awareness of distracted driving - Nicolo F
"The awareness of distracted driving is important because there are way too many people out there losing their lives [...], getting in accidents, causing an accident." Subaru Of Midland Odessa partnered with Safe2Save, an app whose objective is to reduce distracted driving, and organized a competition among schools to raise awareness among students and parents on the risks of distracted driving. In this video, the participants of the competition tell their stories and explain why awareness of distracted driving is important.
---
My experience - James P
I haven't bought a personal car at a dealership in 15 years...mainly because, in my experience, it has always been a day-long beat-down, dealing with shady car salesmen and questionable dealership sales tactics, to squeeze every penny out of the deal that they can get. That changed today at Midland Odessa Subaru. By complete chance, I found an online ad for a nice, clean, used vehicle that I had been looking for...and the asking price was fair, based on NADA guide info. I was sure that when I arrived, the unit would be gone, but I would hear "let me show you this other great car". Initially, my suspicions were confirmed when staff couldn't locate the keys or the vehicle. To my surprise, after a little sleuth work, we learned that a tech had moved the car around back to be detailed. Long story short, I got a great car for a fair price, along with a substantial extra to sweeten the deal. Sales Pro Shelby Gray was straight-forward and fair throughout the process that totaled approximately 2 hours and including 2-test drives. I give Midland Odessa Subaru and Ms. Shelby Gray 5 stars.
---