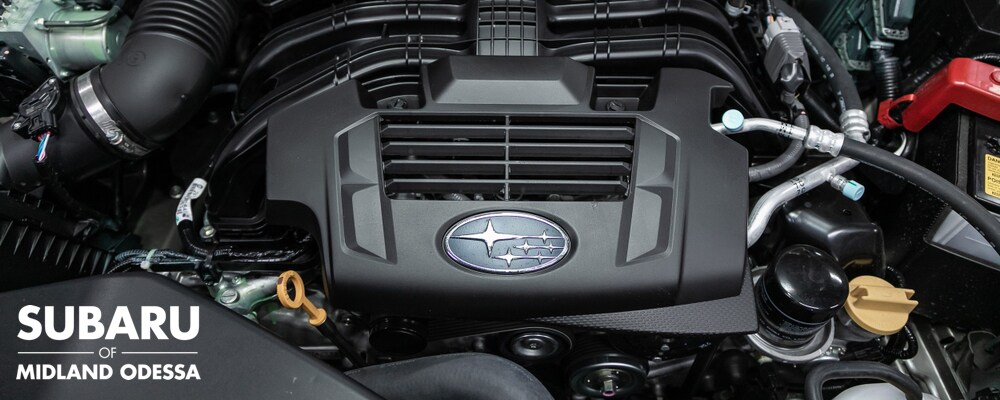 Subaru Love Lasts a Lifetime
Subaru owners tend to keep their cars for a very long time. It's because Subaru vehicles are built with a quality that can't be matched. Subaru owners also get an unbeatable experience at the Subaru of Midland Odessa Service Center. Our dedicated master technicians are here to maintain, service, diagnose, repair, and generally keep your Subaru in great shape and on track with everything it needs.   
There's nobody better to care for your beloved Subaru anywhere in the Midland-Odessa, TX area than the expert Subaru Service Technicians right here at Subaru of Midland Odessa. You love your Subaru. It's okay. We get it. We love your Subaru, too. That's why we want you to be able to enjoy it for a lifetime.  
We're Fluent in Subaru
One of the reasons you love your Subaru is because it's unique. That means it has unique needs when it comes to keeping it in great shape. Our service technicians are factory trained and certified, so they know every square inch of the Boxer engine and Subaru's Symmetrical All-Wheel Drive system. Our techs have the experience and the state-of-the-art tools to diagnose and fix issues with every system, including EyeSight driver assist technology. And since technology moves quickly, our service technicians update their training every year, so they remain fluent in the latest advances.  
Helping Smooth Out the Bumps
You probably already know how your shocks and struts even out road imperfections, so you enjoy a smooth, comfortable ride. But you may not know how they interconnect with the brakes, symmetrical AWD, vehicle dynamic control, and driver assist technology. These are all systems you depend on to keep you safe.   When you bring your Subaru in for maintenance, we'll check your suspension system and inspect your brakes. When it's time to replace your brakes, shocks, or struts, we use only genuine Subaru parts. Of course, we hope you never need to test them, but if you ever need to hard brake or perform an evasive maneuver, you'll have the peace of mind knowing the parts in your brakes and suspension system are designed to work together.  
We Identify Issues Before They Become Problems
It's often referred to as "routine" maintenance, but when you get busy with life, it's easy to forget that regular oil and fluid changes, tire rotation, and filter changes, and inspections are so essential to the longevity of your car. Our technicians are happy to go over your Subaru's maintenance schedule with you to help you stay up to date on necessary upkeep.   Bring your Subaru to our service center for regular maintenance, and we'll inspect all systems to make sure they're functioning normally. We'll deliver a report, explain every area we've inspected, and provide recommendations for follow-up service. With our fully stocked parts department, we can replace many parts on the spot, including wiper blades and air filters. We'll also make sure your battery is in good health. With the fluctuations in temperature we experience in Midland, TX, you may not notice any drain on your battery until you find yourself stranded somewhere. If it's time for a new one, we can replace it the same day.  
When Things go Wrong, We'll Get You Back on the Road
Even with the best routine maintenance care, sometimes things go wrong. When your Subaru needs more advanced repairs like engine or transmission work, we're here to help. Bring your vehicle to our service center, and we'll perform a comprehensive diagnostic test to pinpoint the problem. We'll then provide an estimate showing what we need to do to correct the problem. Our service technicians will answer all of your questions, and if we need to keep your car, keep you informed of our progress. Our goal is a timely, thorough repair to get you safely back on the road as quickly as possible.  
We Love ALL Makes and Models
You don't have to own a Subaru to take advantage of the best service technicians you'll find in Midland, TX. Our highly skilled team at Subaru of Midland Odessa can perform diagnostics and repairs on any make and model of car, truck, van, or SUV. Whatever you drive, your vehicle is in great hands at our Subaru service center.
Hours
Monday

10:00AM-7:00PM

Tuesday

10:00AM-7:00PM

Wednesday

10:00AM-7:00PM

Thursday

10:00AM-7:00PM

Friday

10:00AM-7:00PM

Saturday

10:00AM-7:00PM

Sunday

Closed