Towing Ability of Subaru Crossovers

Who Needs a Truck When You Can Have a Subaru?
When you're trying to move a trailer or boat, you'll need an SUV that can handle the stress of all that weight. While there are plenty of options, these are some of the best Subaru vehicles to bring along for the road. If you're after one of these amazing SUVs near Odessa, Midland, or Big Spring, you'll want to stop by Subaru of Midland Odessa, where you'll be able to try them out in person with a complimentary test drive.
Towing to Fit Your Needs
As you look at your next Subaru purchase, it's important to pair your purchase with its towing capability if it's among your priorities. Take a look at the towing capacity of Crosstreks, Outbacks, Foresters, and Ascents to make the most informed decision possible.
| Model | Towing Capacity |
| --- | --- |
| Ascent | Up to 5,000 Pounds |
| Outback | Up to 3,500 Pounds |
| Forester | Up to 3,000 Pounds |
| Crosstrek | Up to 1,500 Pounds |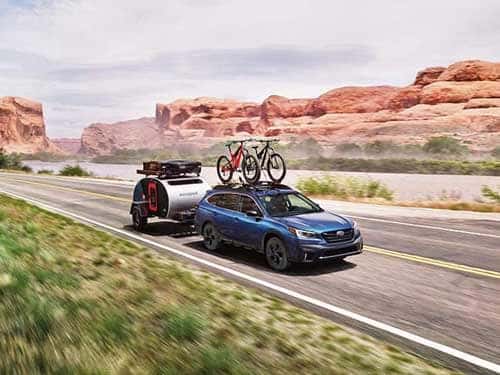 Heavy Capacity Towing
If you're looking to move a serious amount of weight, you're going to need a model that has real power. Subaru offers the Ascent and Outback, which both boast considerable strength.
Subaru Ascent: This model can tow more than any other Subaru model and is also the largest SUV that the brand offers. You'll find room for up to eight passengers, and you'll be able to comfortably tow 5,000 pounds if you opt for trims like the Ascent Premium or the Ascent Touring.
Subaru Outback: The Outback offers a smooth drive with its Lineartronic CVT and can be equipped with an available 2.4-liter turbocharged SUBARU BOXER engine. This gives it the power it needs to tow up to 3,500 pounds, depending on your trim. If you choose to stick with the standard Outback, you'll be able to tow up to 2,700 pounds in comparison.
Lighter Capacity Towing
When you're looking for an SUV that has the power to tow but is on the smaller end, you might find that you have limited options. When it comes to Subaru models though, you'll be able to take advantage of strong and efficient models like the Forester and the Crosstrek.
Subaru Forester: The Forester is a bit smaller than the Ascent, but it still offers some incredible power. The standard Forester can tow 1,500 pounds, but if you opt for the Forester Wilderness trim, you can expect a maximum towing capacity of 3,000 pounds.
Subaru Crosstrek: The Crosstrek is the perfect entry model for towing as even its standard version can tow 1,500 pounds of weight behind it. This model also comes with an available hybrid engine, which can help you save on fuel costs while still being able to tow a thousand pounds.
Why Choose a Subaru For Towing?
If towing is something that's important to you, you might be wondering why you would choose a Subaru model over something like a pick-up truck. When it comes to pure comfort, there's simply nothing better than something like the Subaru Ascent. It offers more than enough space for all of your passengers, and you'll still have plenty of room in the back for your belongings. If you were to bring a truck along for the ride, you wouldn't be able to take nearly as many people with you, and fitting your cargo might quickly become a problem. You'll also find that many of these models get great gas mileage in comparison, and you'll even find the option for a hybrid powertrain on models like the Crosstrek. When you want to make sure that everyone feels refreshed by the time you reach your destination, you're going to want to make sure you're driving a Subaru.
Subaru has dedicated its resources to creating a legacy of durable, capable, and long-lasting vehicles intended to take you above and beyond what other vehicles can offer. As technology improves, so do the abilities of each and every Subaru model. In their more recent lineup of Ascents, Crosstreks, Outbacks and Foresters, Subaru vehicles aren't only getting smarter, but stronger as well. Given their size, the strength of a Subaru will surprise you, and enable you to bring everything you need along on your next Subaru adventure
When you need a vehicle fit for towing, you'll want to finance your next Subaru model with Subaru of Midland Odessa, where you can start with an application.